Green River Cemetery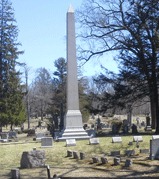 The Green River Cemetery remains one of the most beautiful and historic cemeteries in New England due to uniquely sacred founding principles, planning philosophies and stewardship, all of which continue from the mid-nineteenth century to the present day. It is located atop a high wooded bluff encompassing the complete panorama of the serenity of nature overlooking the Green River, from which the cemetery derived its name. Along with its natural legacy, the cemetery is also renowned for its cross-section of residents and statuary, including former Governor of Massachusetts William B. Washburn and the marble bas-relief angel monument personally sculpted by Daniel Chester French, best know for designing the Lincoln Memorial in Washington, D.C. This monument, as well as the chapel and the sloping grounds of the entire cemetery, is on the Registry of Historic Places maintained by the Massachusetts Historical Commission.
The Green River Cemetery was consecrated in 1851 and has always been private, non-denominational and is the largest cemetery in the area. Green River Cemetery's design was inspired by the pioneering example of Mount Auburn Cemetery in Cambridge, Massachusetts, the model of what became known as the 'rural cemetery' in the nineteenth century. The rural cemetery was original and significant as it transformed American burial practices. It was America's first organized civic nonprofit association, and inspired the creation and design of urban parks.
The Green River Cemetery remains based on the prevailing aesthetic theory of the nineteenth century which categorized the landscape as either sublime, beautiful or picturesque. The sublime represented wild nature, outside the control of civilization. The beautiful was intentional design of nature, serving as a backdrop for human creations. The picturesque was considered the 'perfect natural landscape', balancing art and nature, allowing civilization to be present but without disturbing the grandeur and power of the natural setting.
Rural cemeteries, such as Green River Cemetery, direct the visitor to consider nature instead of more worldly thoughts. In an increasingly commercial and profane world, nature could be an instructor about moral and ethical behavior.
Green River Cemetery remains committed to these principles to this day.
We invite all to visit and explore.